Amanda Bluglass directed 2020 WMFF feature "Chasing the Sublime," a short film on cold water swimming in the UK. We asked her a few questions, see our Q&A conversation below:
What is in your gear bag/kit?
Wetsuit, shotlist, release forms, nuts. As a director/producer it's my crew who carry the technical gear.
What item can you not live without?
My super light-weight Wolf varifocal glasses with an extra-large magnification area. I need to be able to see on a monitor if the focus is soft or pinpoint sharp.
How do you choose music for your films?
Music is key and I listen to a lot of tracks to establish the mood, very early on in the editing process. The speed of the shots and the pace of the edit is a combination of the music choice and its rhythm/mood. I have once worked with a composer and he did an incredible job but often budgets do not allow for commissioned music.
Most necessary character-quality for a director?
From observing other directors directly, I'm most impressed by their ability to keep calm. They never seem to make a drama out of a situation but rather problem-solve in a collaborative way. It's always about listening and harnessing the team's expertise. Having a clear idea of shots, story and visual ideas is a given, but the cinematographer is there to bring creative vision as much as the director. Cultivating great communication is vital.
Who has been most influential in your directing career?
I really love the writer and director Jill Soloway. She makes intimate, funny, challenging, feminist fiction films and TV… Nothing at all like my documentary-style work, but she understands how to write for and capture emotion. I am in awe and slightly obsessed.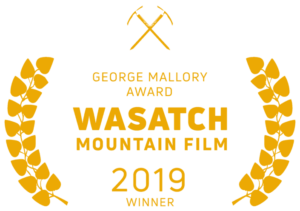 Favorite on-set memory?
In a recent film ('Bob & Marion', about two marathon runners in their eighties) shot in my back 'yard', Dartmoor, whilst filming at golden hour, a herd of wild ponies took flight and stampeded in perfect choreography. We were rolling with two cameras and a drone, and the scene became the end credit sequence. It was just one of those incredibly lucky moments.
Craziest on-set/en route to set adventure?
I once made a film about an artist trying to install columns of ice on top of a Norwegian mountain to represent Scott's Antarctic team. The wind would play the ice like flutes and create an 'air harp'. However climate change meant there was no snow. We all ended up around a fire on top of the mountain drinking champagne out of vintage glasses. I'm not sure where that came from. The whole venture was insane.
More About Amanda Bluglass
Amanda's films and commercial work have featured on the BBC, Oprah Winfrey Network, Channel 4, Huffington Post and The Atlantic, with commissions from clients as varied as NASA, London Olympics, Samsung, Etsy, the National Trust and Photobox. She's also an Associate Lecturer in Media Arts at Plymouth University, UK. Her first career, spanning 12 years in BBC radio/TV news saw her working with national correspondents for the Six, One and Ten o'clock News. Since embarking on freelance directing in 2006, she's won numerous festival selections and awards for her documentary portraits and experimental films. Check out more of her work here: amandabluglass.co.uk.